Ultrasonographic Evaluation
Diagnostic ultrasonography was introduced in the early 1980s as a practical imaging modality to evaluate soft tissue injuries of the equine limb. It continues to be used extensively for evaluation of tendonous and ligamentous structures, to identify, confirm, and monitor soft tissue injury. The basic objective of an ultrasonographic evaluation is to characterize the morphological characteristics of the soft tissue structures and bony surfaces of each designated anatomical structure. The goal is to determine the size, shape, echogenicity (whiteness or brightness of a structure), fiber pattern, and surrounding inflammatory reaction of any structure. Next, these findings are considered carefully in conjunction with the clinical examinations and the current athletic use of the horse.
Some Indications for Ultrasonographic Evaluation of the Equine Include:
Diagnosis of soft tissue injuries including muscular, vascular, tendon, tendon sheaths, ligament, joint capsule, or bursal defects
Assessment of fluid accumulation
Evaluation of joint and bony surfaces
Monitoring of the healing progress
Monitoring of the effect of training on soft tissue structures, especially tendons and ligaments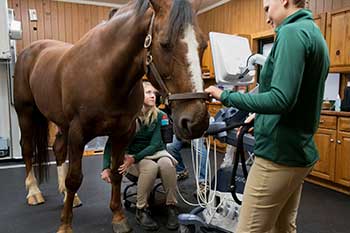 At Virginia Equine Imaging, high resolution musculoskeletal ultrasound is a specialty even within our specialty imaging practice. In the early 1980's, Dr. Allen was one of the early adopters of musculoskeletal ultrasound and continues to speak nationally and internationally on this and other imaging modalities. VEI has extremely high resolution ultrasound, so that we can image as high as 17 megahertz (the standard being 7 to 10 megahertz). VEI also has multiple specialty probes that allow for enhanced visualization of difficult to diagnose regions and to guide therapeutic techniques.