What is Shockwave Therapy?
Extracorporeal Shockwave Therapy (ESWT) is a noninvasive treatment that uses rapid high intensity pressure waves to influence the pain reception and healing of soft tissue and bone related disorders. In human medicine, ESWT has been used to treat kidney stones and orthopedic conditions since the 1980s. This technology has been adopted by veterinarians to treat equine patients with a variety of musculoskeletal  conditions like kissing spine and proximal suspensory desmopathy.  In certain instances, ESWT can be a non-invasive alternative to surgery for some injuries.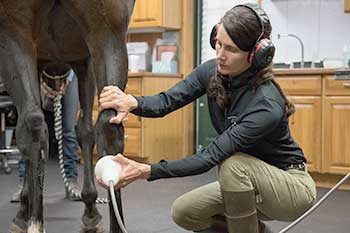 Who is a candidate for ESWT?
ESWT may be recommended for horses suffering from both acute or chronic causes of pain. It is probably best known as a highly effective treatment for inflammation of the suspensory ligament, but is commonly used at Virginia Equine Imaging to also treat back pain, hock pain, and inflammation of other tendons and ligaments in the body.  In horses with chronic, non-healing injuries, ESWT elicits active inflammation, in effect jump starting the healing process and improving tissue quality. While not a cure-all, ESWT has broad applications to both control pain and treat musculoskeletal conditions and is widely used as part of a multi-modal approach to managing many of our patients.