EXTERNSHIP
Virginia Equine Imaging offers both internship and externship programs. An externship is a two-week period in which veterinary students (preference given to 4th year students) are exposed to all phases of the practice and assist veterinarians and technicians in various exams and procedures. Externships are given on a space available basis and can be completed in exchange for academic credit. Your performance will be evaluated at the conclusion of your externship. An externship must be completed in order to be considered for an internship in the future. 
Housing with a small kitchen, basic amenities, and a washer and dryer are available at the clinic for up to two externs. Please refer to the section below labeled "Extern FAQ's" for additional information. 
In order to schedule an externship, please email your resume or CV, unofficial transcript, and one letter of recommendation to vaequinestudent@gmail.com with your preferred date(s). Some dates fill up as early as a year in advance, so please email as soon as possible so that we may accommodate your schedule the best we can. 
Virginia Equine Imaging
2716 Landmark School Rd.
The Plains, VA 20198 USA
Phone: (540) 687-4663
Fax: (540) 687-4665
Email : vaequinestudent@gmail.com
Website : www.vaequine.com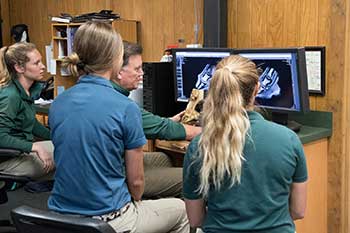 INTERNSHIP
** The intern application deadline is October 1st **
The internship at Virginia Equine Imaging is a 12 month position, beginning each June. It is designed for new graduates only and requires a high level of talent and commitment in order to acquire proficiency with a wide variety of advanced imaging technologies. We expect our interns to acquire a high level of competency in the following technologies and techniques by the end of their internship: nuclear scintigraphy, digital radiology, advanced musculoskeletal ultrasound, lameness exams, FES therapy, MRI, ESWT therapy, mesotherapy, CURO diagnostics, endoscopy exams, nerve blocks, etc. Interns will spend approximately two months during the winter in Florida working out of our Wellington location with Dr. Russillo. The rest of the internship will be at our Virginia location.
The philosophy of this internship program is for the student to gain exposure and experience in performance horse medicine and managing the equine athlete. The student will become comfortable with numerous diagnostic techniques including interpreting nuclear scintigraphy, and performing and interpreting radiograph and ultrasound imaging. They will assist with and become competent in performing lameness workups, poor performance workups and intra-articular and ancillary therapies. There are two interns accepted each year, who switch off weekly between helping Dr. Allen in clinic, or going out clinic with Dr. Russillo or Dr. Atkins. Each intern will do a two month rotation in FL. All internships will be well supervised and performance evaluations will be done periodically by our doctors. You may be expected to complete a paper, talk, and/or presentation during your time at Virginia Equine Imaging. 
Virginia Equine Imaging is an equine practice specializing in sports medicine, lameness, and diagnostic imaging. There is a covered lunge arena, sand lunge arena, concrete jog strip, and large sand arena on site for lameness workups. Practitioners consist of doctors A. Kent Allen, DVM, Susan Johns, DVM, CVA, Cricket Russillo, DVM, and Abigail Atkins, DVM, Large Animal Internal Medicine Resident. The caseload is comprised of horses of multiple disciplines including three-day event horses, hunters/jumpers, dressage, foxhunters, western pleasure, driving, racing, and others, being seen for lameness and/or poor performance evaluations and treatments. We also see a number of horses for pre-purchase exams as well as internal medicine diagnostics and treatments. The majority of clients are seen in-clinic, however Drs. Johns, Russillo, and Atkins often travel to several local performance horse farms for out-clinic appointments.  
Interns will be required to provide their own housing while in Virginia, however housing will be provided during the two months in Florida. We do not allow pets in the housing in Florida. The schedule while in Florida varies and the weekly schedule is Tuesday through Sunday, however this does not include events or competitions. Interns will not see emergency cases in Virginia, but will be on call for emergencies while in Wellington, FL. They will accompany doctors to major competitions and will be contractually required to work at these events, which include the Land Rover Kentucky Three Day Event, the Great Meadow International, and the Upperville Colt and Horse Show.
Interns receive a salary of $35k for the year that they work, professional liability insurance, a clothing allowance, two weeks paid vacation, paid entry to a local CE meeting, and paid medical insurance through Anthem Blue Cross/Blue Shield. 
The internship application deadline is October 1st, although we reserve the right to close the application process early. Applicants must provide a resume and three professional letters of reference. Interns will be required to obtain a valid VA and FL license to practice veterinary medicine, as well as register to become an FEI permitted treating veterinarian. Only intern applicants who have previously completed an externship with VEI will be considered. The applicant will be notified of acceptance no later than December 15th.
Extern FAQ's
"What should I wear?"
-Khaki pants, a collared shirt (typically dark green or any other conservative color), and comfortable, closed-toed shoes appropriate for working with horses are recommended.
"Who is eligible for an externship?"
-Veterinary students (preference given to 4th year students) with equine experience.
"What are your hours of business?"
-Monday-Friday from 8am-5pm, however you may be expected to work outside of typical work hours depending on appointments. We do not see emergencies at our clinic, however you may be asked to perform a night check for horses staying overnight in the clinic.
"Where will I stay during my externship?"
-We do provide housing for our externs. There is a one-bedroom apartment above the clinic with two twin beds, a full bath, small kitchenette with a stove, fridge and microwave. There is a washer and dryer in-clinic that is available for student use. It is not required of students to stay in the clinic. You may stay with friends or family nearby, we only require that you participate fully in all the daily activities at the clinic.
"Are there weekend responsibilities during the externships?"
-During the event season, our doctors may attend competitions. If your stay coincides with a competition, students are welcome to attend as spectators only, provided they have their own accommodations and transportation.
"What will my responsibilities at VEI include?"
-Observe and assist in lameness evaluations, including, but not limited to: participating in bone scans, holding and jogging horses, holding plates for radiology, and reading bone scans and MRI images with the doctors, along with other various responsibilities. 
"What can I do to best prepare for my stay?"
-Review anatomy, joint injection techniques, and common athletic injuries and proper management. 
Intern FAQ's
"How long is the internship?"
-One year.
"Do I need to live close to the clinic?"
-No, although when the days get long, it is nice to live within about 20 minutes of the clinic.
"Can I bring my pets?"
-Yes, if you can find housing that allows them in Virginia but you may not bring them with you to work or on your two-month rotation in Florida. You will have to make other arrangements for them for that time period.
"Do you take second year interns for the internship program?"
-We do not, as that would require us to reteach certain methods and techniques according to our procedures and customs.
"Who is eligible for an internship?"
– Any recently graduated veterinary medical student who has previously completed an externship here at VEI.